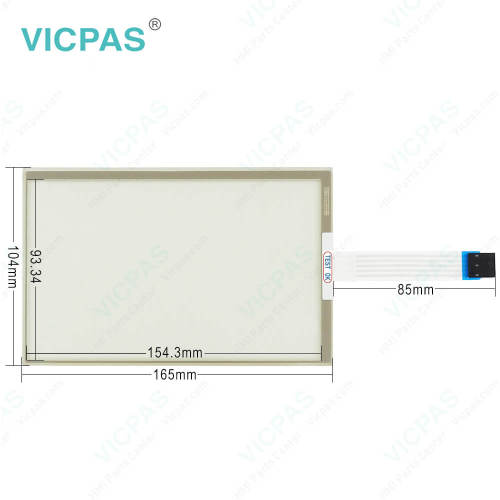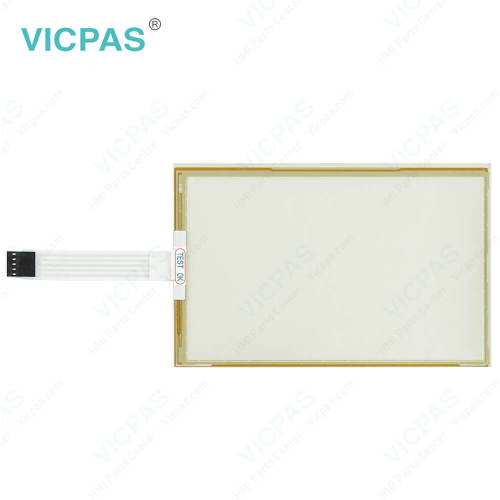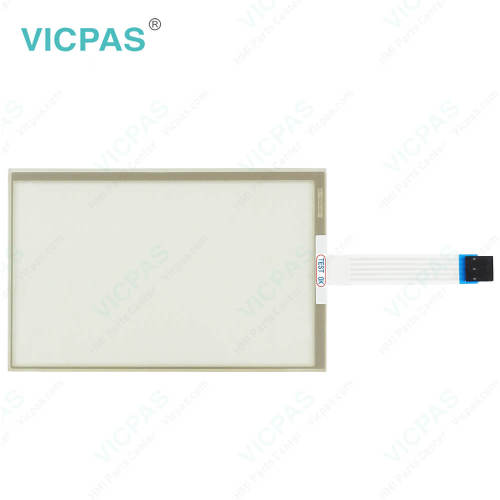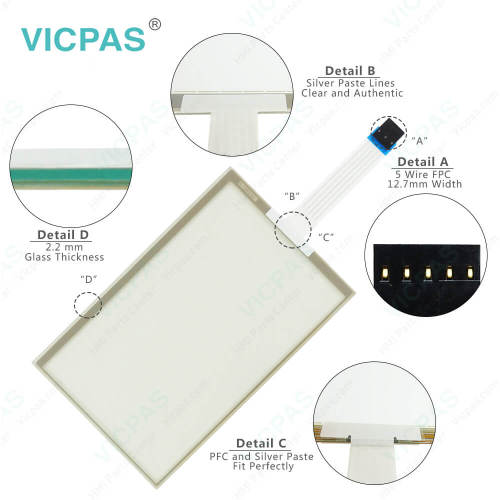 Higgstec T070S-5RB003N-0A11R0-080FH Touch Screen Panel
Model

T070S-5RB003N-0A11R0-080FH
Item specifics
Warranty

365 Days
Shipping

DHL/FedEx/UPS/TNT/EMS/Aramex /DPEX
Touch points

Single-touch
Place of Origin

China
HMI touch glass

touch digitizer glass
HMI panel glass

touch screen monitor
Name

T070S-5RB003N-0A11R0-080FH Touch Screen Panel
Description
Higgstec
T070S-5RB003N-0A11R0-080FH

Touch Screen Panel

T070S-5RB003N-0A11R0-080FH touch screen
T070S-5RB003N-0A11R0-080FH touch panel
T070S-5RB003N-0A11R0-080FH Touch screen glass
T070S-5RB003N-0A11R0-080FH Touch screen hmi
T070S-5RB003N-0A11R0-080FH touch memrbane
T070S-5RB003N-0A11R0-080FH touch digitizer
T070S-5RB003N-0A11R0-080FH touchscreen

True Flat Resistive Touch Solution
Our True Flat Resistive touch solution combines the simplicity, versatility and durability of our 5-wire resistive technology with an attrac- tive zero-bezel desian.

The fush surface is easier to clean and there will be no dust or dirt buildup or water leakage into the bezel, making it an excellent solution for sterile or dust free environments such as medical dinics, scientific laboratories, restaurants or food processing areas. What's more, you now also incorporate features such as logos or hotkey buttons on the cover design".

Higgstec also uses a special high temperature production process for its resistive screens to fuse the silver sensor circuit onto the glass, preventing it from peeling off during extreme temperature or humidity variations, ensuring greater longevity and durability in harsh operating environments

A front cover shield (glass, fiberglass, PMMA or other material) can also be added to the front of the resistive panel for anti-abrasion and chemical resistance protection.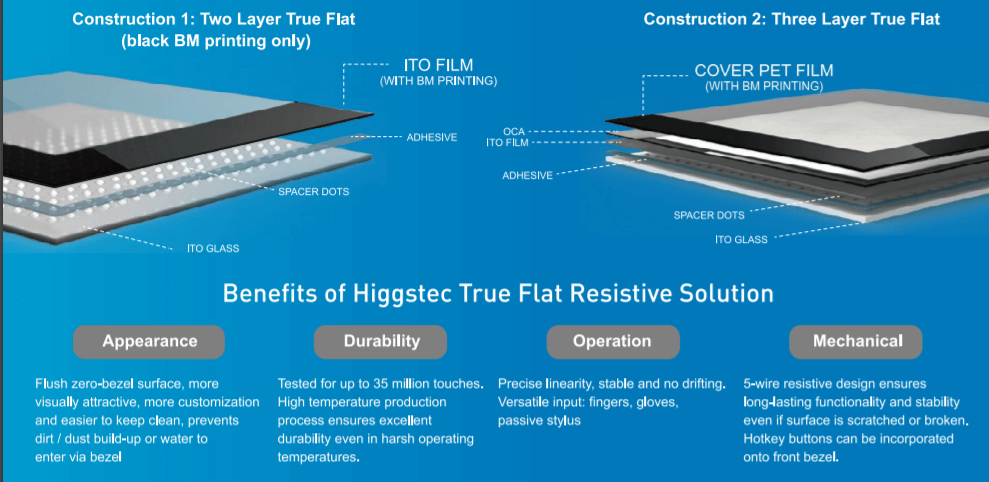 FAQ:
Question:Attention of Mounting Condition
Answer:
(1) The gasket support of touch panel must allocate outside of Viewable Area. Reserve enough clearance between panel surface and enclosure for normal panel operation.
To avoid pressing error, please retain enough space between surface panel and Bezel.

(2) Bezel opening must not touch Viewable Area, Bezel opening must be designed between Viewable Area and Active Area.

(3) We recommend elastic material support.

(4) Due to the conductive characteristic of the panel backside, prevent metal contact after mounting.

(5) Do not use adhesive to bond top surface (ITO Film) of touch panel with enclosure.

(6) Proper grounding of controller at all times assure normal operation.

(7) During assembly. Please take into consideration the variance in the different module designs, whether it would cause physical, cosmetic or functional damages to the touch panel, when completing the assembly.

(8) After installation,please perform 4 point and 25-point calibration.