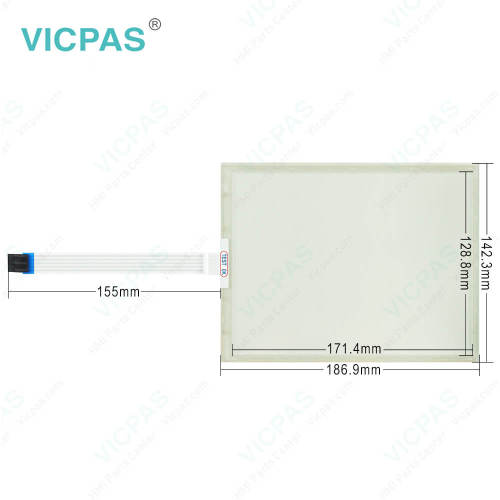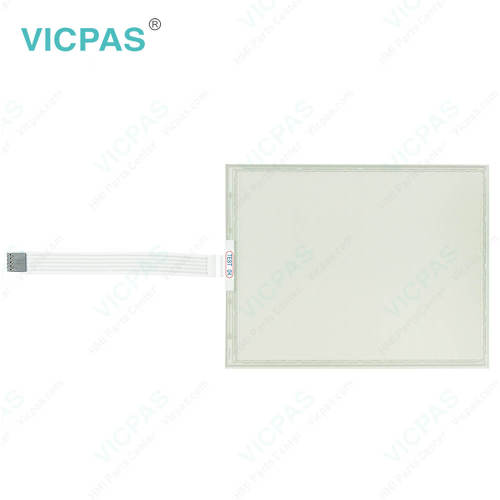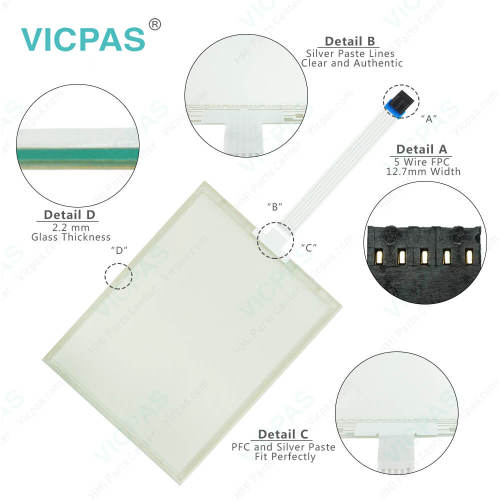 Higgstec T084U-5RAB02N-0A11R0-150FH Touch Screen Panel
Model

T084U-5RAB02N-0A11R0-150FH
Item specifics
Warranty

365 Days
Shipping

DHL/FedEx/UPS/TNT/EMS/Aramex /DPEX
Touch points

Single-touch
Place of Origin

China
HMI touch glass

touch digitizer glass
HMI panel glass

touch screen monitor
Name

T084U-5RAB02N-0A11R0-150FH Touch Screen Panel
Description
Higgstec

T084U-5RAB02N-0A11R0-150FH

Touch Screen Panel

T084U-5RAB02N-0A11R0-150FH Touchscreen
T084U-5RAB02N-0A11R0-150FH touch assemble
T084U-5RAB02N-0A11R0-150FH touch front
T084U-5RAB02N-0A11R0-150FH touch interface
T084U-5RAB02N-0A11R0-150FH touch cover

Sunlight Readable Resistive Touch Solution
A modification of our 5-wire resistive technology suitable to be used in full outdoor applications,where bright sunlight can potentially make the screen unreadable. Higgstec's Sunlight Readable solution dramatically reduces reflectance and increases contrast ratio, while also preventing birefringence when the screen is viewed through polarizer sunglasses,making it a popular choice for military, automotive and other outdoor use applications.

A polarizer and two layers of 1/4 wavelength retardation film are added to the stack up of our 5-wire resistive touch panel.In addition,the ITO coated film is made from non-PET isotropic material.When an incoming light ray passes through the touch panel it is transformed from unpolarized light into circular-polarized light. Then as it is reflected, it is transformed again from circular-polarized light into linear-po- larized light. The light ray is unable to pass back through the front polarizer, and internal reflection is eliminated.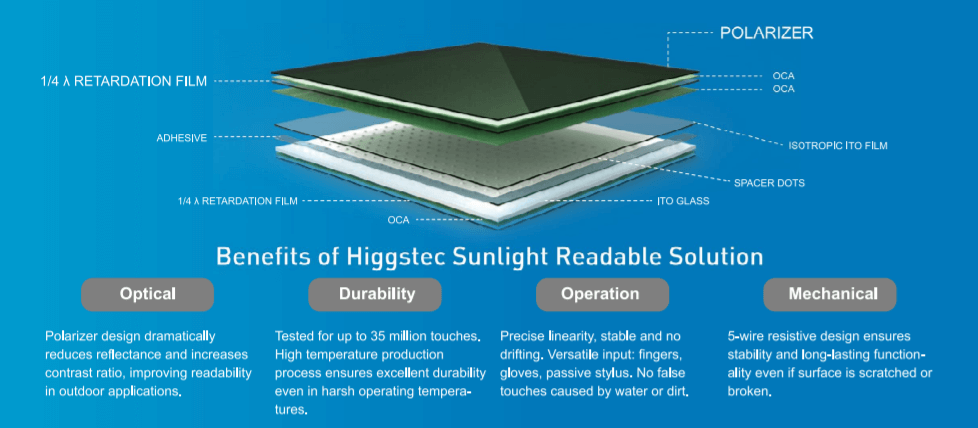 FAQ:
Question:Warranty
Answer:

HIGGSTEC comes with a 2-year guaranty on all HIGGSTEC products. HIGGSTEC guaranty provide for repair and replacement without any charge during this period.

HIGGSTEC reserves the right in its sole discretion to determine the defects received, and will take the responsibility if there is any defect or damages.

Limited warranty does not cover the following situations:

Notice: HIGGSTEC is not responsible for following situation:
1. Damages caused by improper handling from clients, including shipping, installation and integration.

2. Damages caused by either natural or human factors after receiving the products.

3. Damage caused by self-repairs, modifications or disassembling of the product.

4. Damage caused by user error;failing to follow normal operation procedures or using paper tools.